Ok…The third drink in our Heart Healthy Drinks Series is Hibiscus Tea, made from Hibiscus Flower Powder drink. Let us see few benefits of drinking hibiscus tea.
Note: This page may contain affiliate links. Please read my disclosure for more info. Also read my professional disclaimer below.
Coincidence..Having hibiscus tea, while writing this page!..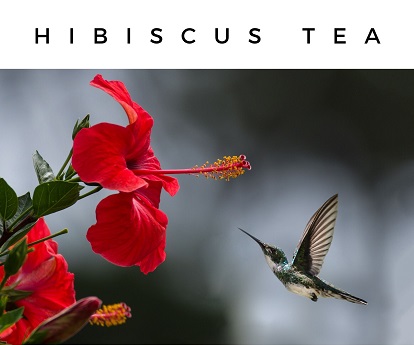 Hibiscus Tea Study
According to an article by USDA Agricultural Research Service, "Study Shows Consuming Hibiscus Tea Lowers Blood Pressure"
Per this article: "For six weeks, about half the group was randomly selected to drink three cups of hibiscus tea daily.
The others drank a placebo beverage containing artificial hibiscus flavoring and color. All participants were advised to follow their usual diet and maintain their normal level of activity.
Before the start of the study, blood pressure was measured twice, one week apart, and at weekly intervals thereafter.
The findings show that the volunteers who drank hibiscus tea had a 7.2 point drop in their systolic blood pressure, compared to a 1.3 point drop in the volunteers who drank the placebo beverage."
Source: https://www.ars.usda.gov/news-events/news/research…

According to Banyan Botanicals, "In Ayurvedic traditions, hibiscus flowers are considered highly sattvic and sacred. They are used in spiritual practices for their ability to open the heart and encourage love and devotion.
When used internally, hibiscus removes excess heat from the body and supports a healthy circulatory system."
Where to Buy Hibiscus Flower Powder?
I use Hibiscus Powder from Banyan Botanicals.

==> To buy Hibiscus Flower Powder Click Here or on the image below.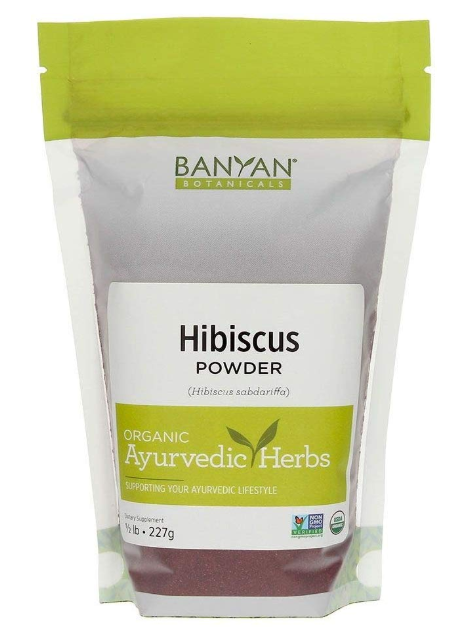 Suggested Usage To Prepare Hibiscus Tea

Suggested Use on this product label is "1/4 to 1/2 teaspoon with warm water, once or twice daily, or as directed by your health practitioner".

Hope you are excited to know about how Hibiscus Tea from Hibiscus Flower Powder Drink can can help in heart health..

I will talk to you soon about my next drink! Until then..
To Your Health & Wellbeing!..
Senthil Natarajan
Note : For more about hibiscus tea benefits and if you are taking taking hydrochlorothiazide check the following link
Source: https://www.healthline.com/nutrition/hibiscus-tea-benefits
Learn About Other Heart Healthy Drinks
For FREE!..
Subscribe

to
"Heart Healthy Drinks Series"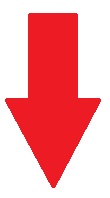 [convertkit form=1238119]
PROFESSIONAL DISCLAIMER I am Not a Doctor or Medical Practitioner. Keep that in mind and please check with your Cardiologist or your physician, licensed health provider or health care practitioner, if you have any questions about implementing any lifestyle changes mentioned in this email, in my book(s) or or reliance on any information provided by us through any medium including emails from us. You are fore-warned! The information we provide is not intended to be a substitute for professional medical advice or treatment and is for educational purposes only. Results from following the information we provide will vary from individual to individual. If you have any health concerns or concerns about potential risks, you should always check with your physician, licensed health provider or health care practitioner. The products and its description mentioned in this site are not been evaluated by the food & drug administration (FDA). The products mentioned are not intended to diagnose, treat, cure or prevent any diseases. Information on this site is not an alternative to medical advice from your doctor or other professional healthcare provider. Please consult your physician, or health care provider before taking any home remedies. We disclaim all responsibility for injury, damage or loss that the user of this information may incur as a direct or indirect consequence of following any directions suggestions, recommendations etc. given by us in this email. Your access, use and reliance on any information provided by us is solely at your own risk.